How to relocate?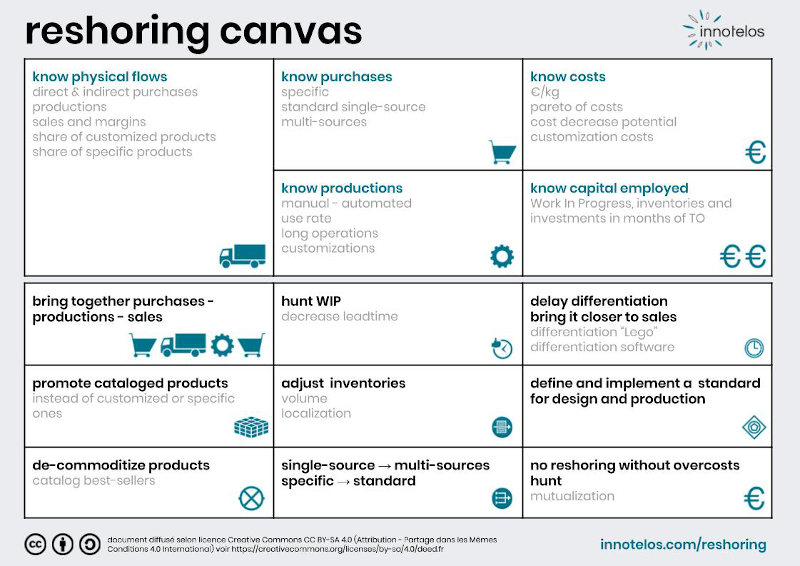 Any change in purchasing or production - offshoring and reshoring - leads to the same risks:
supply disruptions,
cost increases,
fluctuating quality,
long lead times, poor flexibility.
Based on the experience of its founders, innotelos created a reshoring methodology to reduce vulnerabilities:
20 questions to analyze the current situation,
20 reshoring actions to increase resilience.
The Reshoring Canvas summarizes our methodology.
The 2 videos below illustrate with examples our relocation methodology and the Reshoring Canvas.
Feasibility of reshoring
Part 1 of the relocation methodology: analysis
which diagnosis should be made before reshoring?
what are the points of attention?
how to choose what should be relocated first?
Set up a relocation project
Part 2 of the reshoring methodology: decisions for action
what possibilities of relocation?
how to finance reshoring?
which gains? which lead times? which risks?
Consulting & training
Various formulas to support your industrial relocations.
"3 hours for" distance training
3 hours to consider reshoring
3 hours to reduce cost
3 hours to be comfortable with industrialization

1/2 day
online
270 € per person
contact us

pre-study of relocation feasibility

1/2 day
online
475 €
contact us

relocation diagnosis

1 day
online / on site
1,175 €
contact us

relocation + cost reduction diagnosis

2 days
online / on site
2,200 €
contact us

support in relocation, industrialization, cost reduction

online / on site
get a quote
contact us

tailor-made training

online / on site
get a quote
contact us
On site interventions are subject to health & safety regulations and constraints. We are able to provice all or part of our services remotely.
Our experience in international projects is a guarantee of similar efficiency on line and on site.

Crédits
- Text, videos and Reshoring Canvas are authored by Anne Munchenbach et Didier Lebouc (innotelos).
- Reshoring Canevas, freely inspired by Strategyzer canvas, is licensed under Creative Commons Licence Attribution - Share Alikes 4.0 International (CC BY-SA 4.0).